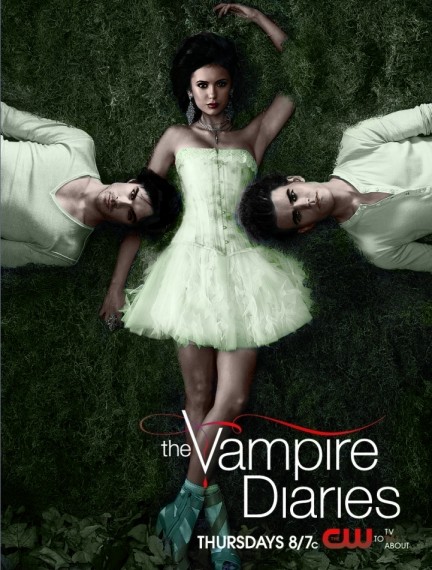 Sometimes, a tired story of vampires and love triangles, if given the right characters and creators, can be absolutely fresh and relevant.
The Vampire Diaries,
a 2009 drama about a human, Elena, who attracts the attention of two Vampire brothers-bad boy Damon, and reformed Stephan, is based very loosely on a book series. If you are thinking it sounds a lot like
Twilight
you'd be right, and very very wrong. The stories and characters in
Vampire Diaries
absolutely shock me. The mysteries and twists hook me every episode. It may have a love triangle, but it is about so much more than that. It deals with deaths, sacrifice, friendships, family, and love. In short, it's actually a great and risky story.
Just when I think a character is all good or all bad, they surprise me with a new development. Nina Dobrev, who plays the young Elena, has a remarkable gift of humility and skill that really humanizes her character, and carries the show. The fact that Dobrev also plays a scarier vampire look-alike name Catherine is a fun bonus. Dobrev isn't the only one who chews up scenes. Ian Somerhalder makes a great and snarky Damon, and Joseph Morgan's villain Klaus has quickly become one of my favorite characters.
If you haven't watched the show, I won't spoil last Spring's season 3 finale. All I can say though, is that every time I hear the
Sigor Ros's song
I think about the truly beautiful ending sequence and get a little emotional. Season four will be all the fresher because of it.
I was a skeptic when I first heard about another show about vampires, but truly, this show is ions above the rest, much to my doubting mind's shock. Take a bite out of it, you may surprise yourself.