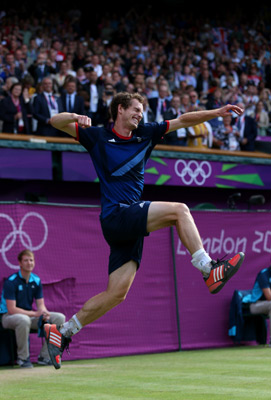 Andy Murray Celebrates Olympic Gold
I'll admit that I have not kept up with all of the Olympics hype on NBC. However, I was absolutely drawn in today by the gold medal match between Great Britain's Andy Murray and Switzerland's Roger Federer. I didn't want to miss a single serve. Federer, who at 30 years old is ranked the number one tennis player in the world, recently beat 25 year old Scottish Murray at 2012's Wimbledon. Murray faced enormous pressure at Wimbledon, with the hopes of a nation long without the home-turf honor of a Wimbledon win. Though he lost, Great Britain was ready for redemption at the London Olympics. Thus, Murray had a lot of weight on his shoulders coming into the Olympics.
Watching them battle it out on the courts once again today at the Olympics was riveting. It seemed part mind game, part athletic skills as the two volleyed and served with power and prowess. Murray, who was ranked fourth in the world, seemed like the initial underdog, especially after so recently losing to Federer. However, he came to dominate, ultimately using control and skill to win Olympic gold. The screams of his usually stoic countrymen could not be contained. It was a beautiful moment to watch him victoriously hug members of the audience, including one very adorable tennis fan. I am not a crazy sports fanatic, but when I see a powerful moment in life and entertainment, I have to give it its due. The match was a fantastic and gripping story that made for great television. We watch the Olympics for moments like it-moments that seem bigger than individual people or even countries.