Copper on BBC AMERICA
I wanted to like
Copper
when I finally got to watching the first episode of the BBC America crime show that takes place in Five Points New York during the mid-19th century. I didn't expect to like it as much as I did, but then again,
Copper
is more like a character show first, and then a crime show, and finally a period piece. Freshness and story-archs are really important to me, which is why I often avoid typical television crime shows.
Copper
isn't typical. It follows Irish cop Kevin Cocoran (Tom Weston-Jones), a tough and gritty cop in a tough and gritty New York filled with warring men and cultures. If I had to name the reasons I will continue to give
Copper
a chance, I could whittle it down to five points:
1. It has a
Gangs of New York
vibe, with more attention to details and the inner-workings of a system of corruption. This gives it the ability to explore the broader notions of culture and identity Irish, African American, cop, English, and American cultures living together while also studying morality and humanity in its fascinating and unique characters.
Gangs of New York
2. Crimes are solved without modern forensic science. In the first episode, when a young girl is murdered a man is still able to calculate the exact weapon used and the exact height of the man who used it. It will be unique to see a crime show without DNA samples.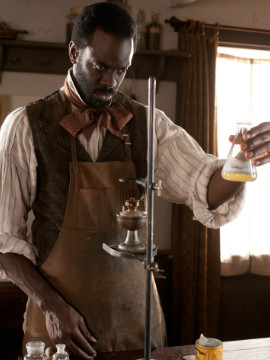 Ato Essandoh as Doctor Freeman in Copper
3. Everyone's moral compass on the show is different. Rights, wrongs, and motivations are shady and gray, making for nuanced characters with flaws and virtues. There are certainly clear villains, but the heroes are a little murkier. I love a show that shows how dangerous moral ambiguity can really be.
4. Justice may be served, but it will be bloodier, longer, and dirtier than most shows. In the pilot episode, a disgusting criminal uses his money and influence to blame another man for his crimes, but from the promo, it looks as though the payoff may be even sweeter. In real life, life isn't always fair and justice isn't always swift. I appreciate a show that acknowledges that.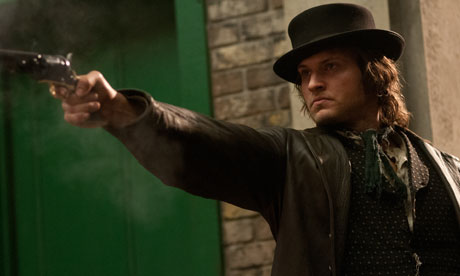 Kevin Cocoron (Jones) in Copper
5. The lead, Kevin Cocoron, has just enough mystery and swagger to make a very compelling and charismatic main character. He's a cop willing to fight in the darkest corners, shoot before warning, and take out men twice his size with brass knuckles. A war vet with a dead daughter and missing wife, Cocoron carries the story as an imperfect man living in a far from perfect city.
Cocoron and Crew
Copper
is off to a great start. As long as the rest of the season is as compelling as the first episode, it will be one crime show I won't want to miss. Watch in Sundays at 10:00 on BBC America.