Tim Burton and his Creations
My sister and I both had a nature/nurture twin moment where we both admitted how sweet and cute
Frankenweenie
, Tim Burton's new film about a boy who brings his beloved dog back to life, looks. When my sister admitted to not seeing Tim Burton's classic film, I was a little horrified. I shirked by duties as a movie-suggester/convincer. I promised to make good on my failure by listing the most important Burton films. I'm not a rabid fan of all of his movies.
Alice and Wonderland
was more strange than good to me, as was
Dark Shadows.
Charlie and the Chocolate Factory
is another just alright film. I do like
Sleepy Hollow
, but I wouldn't put it in my top three. My favorites have more heart, like
Frankenweenie
seems to have. If forces to choose the three Burton films I like the best, I'd list:
Big Fish
3.
Big Fish
Starring Ewan McGregor as a spinner of great tales and giant adventures, this film achieved the perfect balance of fantastical and real. It's focus on the fractured relationship between a father and son made the film stick with me. Not many people list it as one of their favorites. Even I had forgotten about it for a while, but the more I think about it, the more I want to watch it again.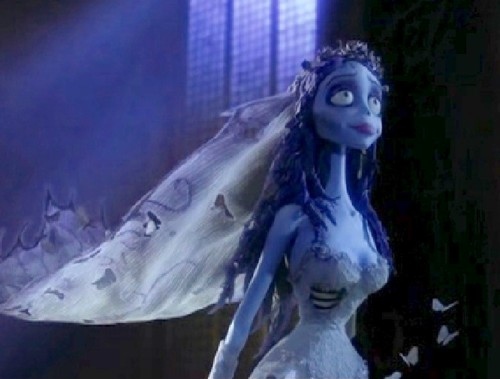 Corpse Bride
2.
Corpse Bride
I love the music. I love the motion capture. I love Johnny Depp as the timid and sweet groom in this Victorian age movie about his unlikely friendship between a lovely departed bride. A story where the dead are much more colorful than the living, the movie ultimately reveals the sacrificial nature of love. It's visually and thematically gorgeous. While many people are bigger fans of The Nightmare Before Christmas, I'm really not. I'd choose Corpse Bride any day.
Edward Scissorhands
1. Edward Scissorhands
This movie is simply beautiful. Equally tragic, lovely, and inevitable, the story of a strange man with scissors for hands it the ultimate outsider story. He wants so badly to live and love and be loved in the ordinary world, but Edward is simply too extraordinary. If I listen to the theme from the movie, I get a little emotional. Johnny Depp has played many beloved roles, but this is my favorite. It is a Tim Burton film at its finest.