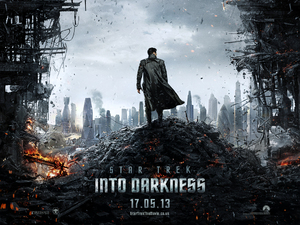 Star Trek Into Darkness
Man did I love the newest version of
Star Trek.
It was shiny and fresh with emotional gravitas to boot. The long await sequel, helmed by the modern sci-fi storyteller J.J. Abrams, has just released a new poster. Featuring Benedict Cumberbatch of
Sherlock
fame, the poster clearly shows Cumberbatch's character among the devastation he assumably caused. The name of the villain of
Star Trek Into Darkness
has yet to be revealed, though it's rumored to be Khan. While some have been quick to point out the similar look of the poster to
The Dark Knight Rises
poster, I say, is it such a bad thing to be compared to another great movie? Look for more teasers and trailers in the months to come. You don't have to be a Trekkie (I'll admit, I am not at all) to appreciate the building anticipation for what is sure to be an excellent film.