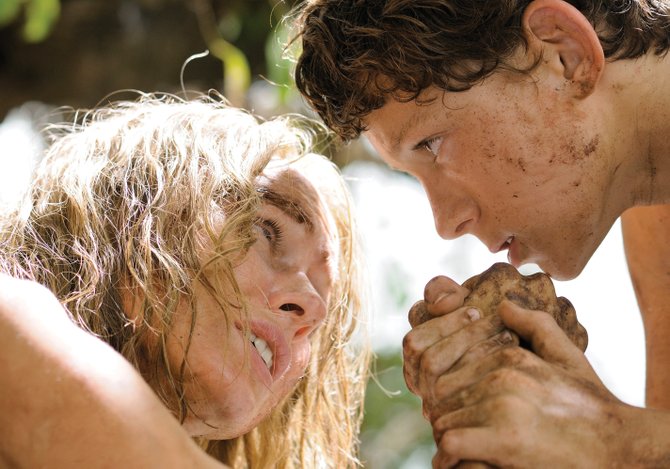 The Impossible Naomi Watts and Tom Holland
See
The Impossible.
See it now. It is the kind of moving, transformative story that most films wish they were. The fact that this film didn't sweep the Oscars makes me all the more removed from them. Naomi Watts stars as Maria, the matriarch of a family of three young boys and wife to Ewan McGregor's Henry. The family takes a vacation to Thailand, all the while fretting over life at home. Two days into their vacation, their world is crushed as the tsunamis strike. With staggering realness, the film follows Maria and her older son Lucas (Tom Holland) as they fight through the flood and debri. Maria is extremely wounded and must rely on her young son to take care of her. Lucas (Tom Holland) goes from boy to man as he literally carries is mother up a tree, drags her to a hospital, and tends to the wounded and lost. Don't get me wrong, Watts deserved an Oscar for her performance as Maria, but man did Holland carry the film. His perspective and growth is what holds the audience in a suspension of hope. His relationship with his mother is the force of the film. The fact that he didn't even get a Best Actor or even Best Supporting Actor nod is ridiculous.
While I won't spoil the film entirely, I will say it is based on a true story and is both tragic and beautiful. Every part of the film reveals the ugliness and beauty of the humanity with such potency as the family fights to find each other once again. I was beyond affected by
The Impossible
, whose name in part comes from a line in the film about the wonderful and impossible mystery of knowing which of the shining stars are dead and which are still living. Their lights all still burn. In this film of disaster and survival, there couldn't be a better metaphor. Watch the movie, listen to the
fantastic soundtrack
, and witness
The Impossible.